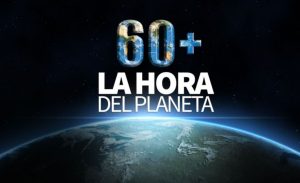 Go back Earth Hour Do you dare to spend next Saturday, 30 March unconsumed single-use plastic, without generating emissions without eating meat?
WWF will mobilize again to millions of citizens, Business, municipalities and governments around the world turn off the lights of monuments, buildings and homes "and will join an ecological transition that is unstoppable, as evidenced by the thousands of initiatives for climate and nature that are occurring ". Ibiza also adds to this initiative…
Earth Hour It is much more than turn off the light, It is a great global movement to address a global problem: climate change. A global campaign that began its journey in a single country, in 2007 in Sydney, driven by WWF, as a symbolic gesture of the fight against climate change, Today already totals 188 countries and millions of citizens of the globe.
In every town and city houses, streets, companies and monuments go out and social networks light to hold governments worldwide political changes for the effective fight against climate change, which it is already one of the greatest threats to biodiversity, and therefore, for the humanity.
The island of Ibiza is also added this year to the initiative, turning off the main monuments between 20:30 and the 21:30 hrs..
In Earth Hour 2019 You are welcome to Saturday, 30 March, In addition to turn off the light 20:30 to 21:30, you join three challenges to care for the planet.
#RetoDíaSinCarne: are needed 15.500 liters of water to produce one kilo of meat.
#RetoDíaSinPlástico single use only: They are dumped each year 100 million tons of plastic Nature.
#RetoDíaSinEmisiones: urban transport is causing the 30% of all CO2 emissions
Have you ever able to take on the challenge?
Ibiza-Click.com
IBIZA'S MOST VISITED CULTURE AND LEISURE SITE
Returns Earth Hour Do you dare to spend next Saturday, 30 March unconsumed single-use plastic, without generating emissions without eating meat? WWF…