EXHIBITION: FABREGAT - Vallribera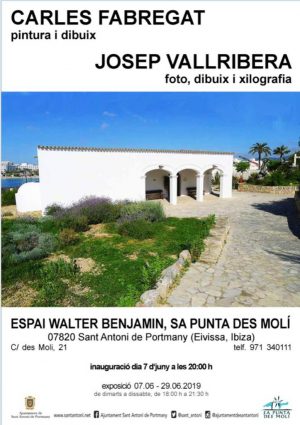 The room Benjamin Sa Punta des Moli (Sant Antoni), It hosts a double exhibition of artists Carles Fabregat (drawings and paintings) and Josep Vallribera (engraving and two sculptures). The opening of the exhibition takes place on Friday, 7 June to the 20:00 hrs..
Josep Vallribera exhibits a collection of photographs that you can see old boats, belonging mostly to families of Sant Antoni. It is of 23 images on A4 foolscap plying between history and art since about them are written texts that have made known historian Maria Torres and Fabregat own.
In his section of the exhibition also it includes a collection of woodcuts, made from a printing technique on wood board. The number is still not clear even if the size, folio also DINA-4. Finally, It vallribera provides two sculptures of a series of six, made in bronze and about 50 centimeters in size.
On the other hand, Carles Fabregat, outstanding multidisciplinary artist and cultural manager has chosen for this exhibition a collection of drawings and paintings of faces and heads which is devoting lately and already had occasion to see in the sla Garden Art Gallery a few months ago.
On this occasion, It offers fifteen works on paper, one exception elaborate on canvas, in all sizes. The smaller they are 20 x 11 centimeters, medians 50 x 70 y más grandes son de 70 x 100 centimeters.
EXHIBITION
Josep Vallribera - Carles Fabregat
SA Punta des Molí
Sant Antoni
Of the 7 to the 29 June 2019
Ibiza-Click.com
IBIZA'S MOST VISITED CULTURE AND LEISURE SITE
The room Benjamin Sa Punta des Moli (Sant Antoni), acoge una doble exposición de los artistas Carles Fabregat (drawings and paintings) y Josep Vallribera (xilografía y…