FRIDAY FILM WITH ZORAN, MY NEPHEW SCAMO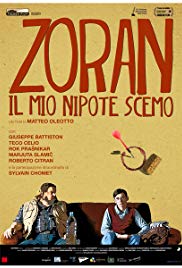 The dramedy Zoran, my nephew scamo Friday is projected, 12 Can Jeroni April (Sant Josep de sa Talaia) within the cycle Friday Film.
This is one of those comedies unapologetic in which a vintner vicious, Tired of everything, Zoran, with that sharp mood, He lives in a bucolic region of Friuli, very close to Slovenia and one day you hear of Slovenia ...
Directed by Matteo Oleotto, Paolo tells how, an unhappy drunkard, He wants to get his wife, which it has gone with another. Suddenly, bursts into his life Zoran, a relative of 15 years coming from Slovenia who is autistic and medium. His main quality is his talent with darts. After a test in a club, Paolo realizes that his cousin could change your life if you got the main prize of the World Darts Championship Glasgow: 60.000 EUR.
Friday Film Series
Zoran, my nephew scamo
Can Jeroni Cultural Center
Sant Josep de sa Talaia
Friday, 12 April of 2019
20:30 hrs.
Free admission with limited capacity
Ibiza-Click.com
IBIZA'S MOST VISITED CULTURE AND LEISURE SITE
La comedia dramática Zoran, il mio nipote scamo se proyecta este viernes, 12 Can Jeroni April (Sant Josep de sa Talaia) in the cycle Friday film. It is…