THEATRE: SPY TO A WOMAN KILLS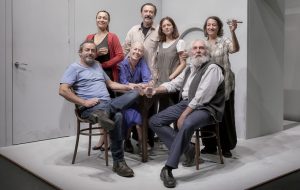 Saturday, 12 January, at 21:00 hours takes place at the Can Ventosa Theater (Ibiza) the representation of the play He spies a woman who kills. It is an adaptation of Chekhov's classic Uncle Vanya, who heads the Argentine Daniel Veronese.
Devel history in a beautiful country house, donde la apacible vida de Vania y de su sobrina Sonia se ve perturbada por la presencia de un viejo profesor y de su joven esposa, Elena, which incites the passion of Vania and Dr. Astrov, which Sonia is secretly in love. He spies a woman who kills himself, version of Uncle Vanya, There will be theatrical costumes, bucolic rhythms or in cold rooms, or tackle the country denoting time. The action will take place in an old and simple scenery. Removing items until you reach the bare minimum, suitable for actors, to finish settling some issues of universal order: the alcohol, love for nature, the uncouth animals and the search for truth through art.
THEATRE
He spies a woman who kills
Text, direction and scenery: Daniel Veronese
Assistant director: Adriana Roff
Cast: Jordi Bosch, Pedro García de les Heras, Ginés García Millán, Malena Gutiérrez, Marina Salas, Susi Sánchez and Natalia Verbeke
Can Ventosa Cultural Center
Ibiza
Saturday, 12 January
21:00 hrs.
Early entry price: 20,00 €
Ibiza-Click.com
IBIZA'S MOST VISITED CULTURE AND LEISURE SITE
Saturday, 12 January, at 21:00 hours takes place at the Can Ventosa Theater (Ibiza) la representación de la obra de teatro Espía a una mujer que…