ONE NIGHT MUSIC IN CAS SERRES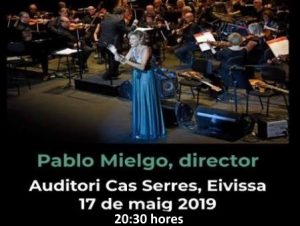 Cas Serres Auditorium of Ibiza hosts, This Friday, 17 at 20:30 hours the Broadway 'An Evening of Music', actress and singer Àngels Gonyalons and director Paul Mielgo, acompañados the Balearic Symphony Orchestra.
This is a show for all audiences was already a success 2017 at the Teatro Principal de Palma. 'An Evening of Music' It will be a trip recognized scenes from musicals of all time, all the greatest hits of this genre: 'Someone to watch over me', de Gershwin; 'Dance 10, Looks: Three', de Hamlisch; 'The Story of Lucy Jessy', the Sondheim; 'Memory', Lloyd Webber; 'Send in the Clowns', the Sondheim; 'Poem Friend', de Moraes; 'I dreamed a dream', de Schoenberg; 'Rough an ready man', the Razaff y Bellend,a y 'Old friends, deSondheim.
The tickets are priced from 10 euros and proceeds from the concert will go to the 'Conscience Foundation'. Con esta iniciativa se responde a los objetivos del Plan de Cultura de la Consellería de Cultura del Govern de promover el mestizaje entre el mundo sinfónico y otros ámbitos musicales e incentivar la participación de nuevos públicos. It also implements adapted schedules in different sectors of public and collaboration with Consellr island and town halls. This ensures create a space to encourage orchestras among younger Balearic and make access to culture and information to a central axis.
CONCERT:
A musical evening
Balearic Symphony Orchestra
Friday, 17 May 2019
20:30 hrs.
Auditorio de Cas Serres
Ibiza
Price: 10 EUR
Ibiza-Click.com
IBIZA'S MOST VISITED CULTURE AND LEISURE SITE
Cas Serres Auditorium of Ibiza hosts, This Friday, 17 at 20:30 horas el espectáculo de Broadway 'Una nit de musical', con la actriz y cantante Àngels Gonyalons y…