Commodification BODIES CAN VENTOSA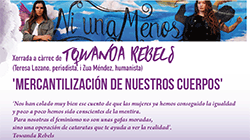 On Tuesday, 27 November, at 20:00 hours takes place in Can Ventosa (Ibiza) a talk about the commodification of women's bodies, in charge of Towanda Rebeldes. This is an activity organized awareness and discussion within the framework of the International Day against gender violence.
The Towanda Rebeldes They are popular actresses Teresa Lozano and Zua Mendez, that convey a direct message feminist and belligerently against inequality in his Youtube channel. A journalist and a humanist who will speak to us openly about the exploitation suffered by women when only the values ​​for your body, as in advertising, or when they are treated as a commodity, and trafficking in women or practices like surrogacy.
'We have cast this story very well that women have already achieved equality and gradually have been aware of the lie. For us feminism are not a purple glasses but cataract surgery that helps you see reality ', claiming the Towanda. The event can also be followed in sign language, thanks to the collaboration of the Federation of Deaf People Baleares (FSIB).
The Towanda became popular beyond the network with the campaign #HolaPutero, where exposed prostitution as a form of enslavement of women and criticized the severity of the situation in Spain, or the #Yotecreo, which they denounced the defenselessness of victims of gender violence, to name just two of the most popular that have launched. Are clear that society still hidden traps where the roles of inferiority of women reproduce men, 'Is the porn that educates herds', They have said, for example. This year they have released '#HolaGuerreras', a book urging women to 'wake' feminism, that for them it is a matter 'of common sense, human rights'. Not in vain, said in an interview that "if feminists are Feminazis, we are the most foolish and clumsy Nazi world, because they kill us'.
Ibiza-Click.com
IBIZA'S MOST VISITED CULTURE AND LEISURE SITE
On Tuesday, 27 November, at 20:00 hours takes place in Can Ventosa (Ibiza) a talk about the commodification of women's bodies, a cargo de Towanda Rebeldes. Is…