CRAFTS FAIR OF IBIZA: PLAZA ART 2019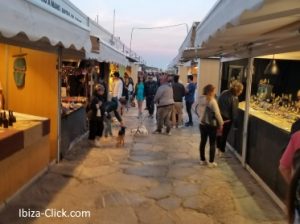 The new edition of the Craft Fair Eivissa, Plaza Art, It is celebrated these days in the port of Ibiza, near the Monument to the People of the Sea. The Council of Ibiza, through the public company FECOEV, first organized in collaboration with the Association of Artisans of PIMEEF this fair will be open until 23 April.
The fair offers a total of 26 artisan exhibitors with all kinds of products, dress, decoration, jewelry and food. Some of the exhibitors, as usual in previous editions, They sell off the island and its products shown here.
This new edition of the fair has a long history, with 35 previous editions and a surface exposure 200 square meter, Port Authority assigned by. The Plaza Art es la primera feria importante de artesanía que se celebra cada año en Ibiza y que da la bienvenida a la temporada. The other fair is held in autumn, the Autumn Fair and closes the season.
Ibiza-Click.com
IBIZA'S MOST VISITED CULTURE AND LEISURE SITE
La nueva edición de la Feria de Artesanía de Eivissa, Plaza Art, It is celebrated these days in the port of Ibiza, near the Monument to the People of the Sea. The…