HOLLYWOOD WESTERN AND PIKES IBIZA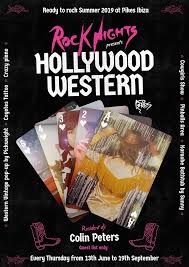 This summer 2019 Rock Nights cumple 14 years of existence ... and 6 years at the legendary Pikes Therefore hotel, They have created an original event: Hollywood Western, inspired by the Wild West Hollywood with an air of Tarantino films.
Each of the posters of the parties form a deck symbol of hearts and each card is a feast starting with the ace of hearts on opening day: 13 June. Rock Nights Like every year chooses a song that represents the theme of the summer, for this occasion Simøne He has done a remix of Aerosmith Sweet Emotion.
The festivities take place every Thursday, from the 13 from June until the 19 September, starting from the 22:00 hrs.. Music programming features, as always, with resident DJ Colin Peters accompanied by the following cast:
ROWETTA Live ( HAPPY MONDAYS ) – DORIAN DJ – KITTY DAISY AND LEWIS DJ SET – SILVIA SUPERSTAR – BLACK HONEY DJ SET – SOREN MANZONI– BANDOLEROS – LOLA VON DAGE – SIMO - VIKTOR OLLÉ - TOXICOSMOS - JAVI BOX – MARCOS TORRES – JORGE CARDONA - MONTANA BROTHERS – FAT GORDON - KERITO - Nacho Ruiz – CHERIES DJS – BONETTI – BLUESBEL – MORINI – GRAHAM THUNDER – ANTON VALERO – THE CARTEL
In addition to the musical environments in the Freddies and rooms Chez Fez, Rock Nights has the Cowgirls, Karaoke bath Sunny, the Crazy Piano area, Pinball area, Tattoo Coyottes area and corner of Picknweight, featuring western secondhand clothes.
You can only go to parties under guest list accessed through the website of Rock Nights: rocknightsclub.com
How could it be otherwise and following the yankees influences from other campaigns, it encourages the public to come to parties with western clothes: cowboy boots, bandanas, shirts western cowboy hats.
Ibiza-Tickets.com
Click & Go!
This summer 2019 Rock Nights cumple 14 years of existence ... and 6 years at the legendary Pikes Therefore hotel, They have created an original event: Hollywood Western, inspired in…