TRADITIONAL CRAFT IN IBIZA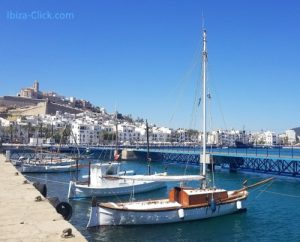 For the days 11 and 12 May, Riba in the spring sa, in the port of Ibiza has organized a Gathering of traditional boats and an exhibition in the old building Foreign Health: Naval building. The office of shipwrights and caulker. The event is part of the acts of the Medieval Fair.
The purpose of this meeting of the Maritime Association Eivissa i Formentera Cultural d'. Saturday morning and Sunday afternoon, they can visit and get on board participating boats, which they will be berthed at Pier Sa Riba and seawall (It is Muro). Also it will be open throughout the weekend, Since the 11.00 h until 21 h, uninterruptedly the temporary exhibition: Naval building. The office of shipwrights and caulker, organized by the Ethnographic Museum of Ibiza.
two outputs of joint navigation vessels participating in the meeting will be held, on Saturday afternoon and Sunday morning. The navigation area is between the island of Ses Rates, the Illots d'es Malvins and the island of l'Sponge, so, It will be visible from much of the bastions and walls surrounding Dalt Vila.
They have confirmed their participation in this Meeting of Traditional Boats, a total of 21 boats of various types, all traditional navigation, coming from Eivissa, Sant Antoni, Santa Eulària, Pou d'es Leon, Mallorca, Menorca and Zumaia (Basque Country). They are traditional boats, mainly Mediterranean, of boat lengths between 4 meters and 42 meters; very representative typologies as chalanas, world, Lauder, one batel the Basque Country, one Gussi from Minorca, trawlers (the Balearic, declared of cultural interest), gullet and the last pailebote built in Islands (Cala Millor ), and still surfs Pitiusas waters.
The event has the support and sponsorship of the Department of Tourism Insular d'Eivissa Consell; Yacht Club Ibiza; Bold Cana SA; Marina Sovren and Balearic Foundation.
Ibiza-Click.com
IBIZA'S MOST VISITED CULTURE AND LEISURE SITE
For the days 11 and 12 May, Riba in the spring sa, in the port of Ibiza has organized a meeting of traditional boats and…