CONCENTRATION FOR PEACE, ALSO IN IBIZA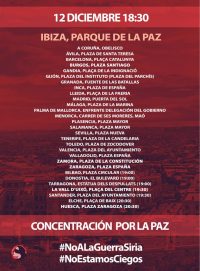 In Ibiza and more than 20 cities throughout Spain held on Monday, 12 of December, at 18.30 hours a rally in favor of peace and against the war in Syria. The appointment is in the Peace Park, where the manifesto agreed by the organization Tofas will read the organizing cities.
The cities have joined to this pacifist causes are: Ibiza, A Coruna, Barcelona, Burgos, Gandía, Gijón, Granada, Inca, Lleida, Madrid, Málaga, Palma de Mallorca, Mahon, Plasencia, Salamanca, Sevilla, Tenerife, Toledo, Valencia, Valladolid, Zamora, Zaragoza, Bilbao, Donostia, Tarragona, La Vall d'Uixó, Santander, Elche, Huesca.
The joint manifesto is as follows:
"Formamos parte de la embarrassed crowd de esta Europa Fortaleza que se amuralla y que violates international human rights law.
And do not suffer from blindness to what is happening and why we have today summoned back simultaneously in the squares of cities to unite our voices in a single shout: NOT TO THE WAR.
Within the framework of the Arab uprisings and subsequent counterrevolutions, Syria suffers, for more than 5 years, a cruel war, en la que ya They have killed more than 470.000 people y que ha causado más de 11 million displaced persons and refugees en el interior del país, en los países vecinos y thousands of deaths in the Mediterranean Sea.
La guerra en Siria ha provocado one of the largest humanitarian crises, as after World War II,so that both international organizations and NGOs and volunteers have condemned not only the lack of involvement of Europe in aid, but also returns at land and sea borders, slow access to effective asylum procedures and poor reception conditions.
The causes of conflict are different: the Suppression of the initial peaceful protests que desencadenó luego enfrentamientos armados, la irrupción de jihadi groups, and the interference by foreign powers What, away from direct their actions towards peace, cause even more deaths, more destruction and further hamper the possibility of a democratic solution to the conflict, convirtiéndolo en una new war of world power between the US and Russia(and their respective allies) that threatens the security of all humanity and the planet.
Any solution must be respect for the rights and freedoms of various peoples and inhabitants of the region.
Expresamos nuestra solidarity with the people of Syria y la voluntad de presionar para que se produzca una salida de la guerra a través del diálogo, starting with a real ceasefire to be respected for the killings to stop, caused by very massive aerial bombardment of besieged cities where malviven currently over 970.000 people, and the return of displaced persons and refugees begins, and reconstruction of the country.
We condemn the dramatic situation that exists today in Aleppo this, where and only remain 200.000 habitantes y no hospital still stands. We demand an immediate end to the bombing of Russian aviation, Syrian government, and any other contender, on the civilian population in Aleppo.
There can be no reason or justification by any of the armed factions, no explanation or excuse, Non-stop shelling medical facilities and other civilian infrastructure, or to prevent the arrival of aid, medicines and food, civilians.
We denounce the supply of arms to the area, in which is involved Spain, only lengthen the conflict and increases the suffering of the population. The powers that bring weapons are complicit in the killing.
For all the above, we say that:
1.-We stand in solidarity with the democratic forces of the whole of Syria, according to their diversity of peoples and religions
2- We reject the use of Syrian conflict concerned to try to justify xenophobic attitudes and actions in our country and in the rest of Europe
3- We demand a fundamental change in the policies of the Spanish State and the EU regarding refugees and ask that international law are met, human rights, and recommendations of the relevant UN agencies: We denounce the agreement of shame between the EU and Turkey.
4- We believe that we must change asylum policies, care to the refugee population, and maritime rescue. The European Union and states should establish safe and legal way to potential asylum seekers in order to guarantee the right to life and human dignity at different stages of their forced displacement, from their country of origin, in transit and in their host.
5-Fortress Europe urge that instead of sending warships of NATO over the Aegean 5 meters high which is not going to make any rescue at sea, allocate resources from military spending to civilian reception policies.
6- We demand an immediate cease-fire in Syria and the establishment of humanitarian corridors monitored by independent international civil organizations to help populations under siege. We advocate the termination of the armed conflict and denouncing the international system that has enabled and encouraged.
In addition, we express our total rejection of any armed conflict, whatever their origin, as always they generate terrible consequences on civilians. Therefore we should not forget other wars like Iraq, Yemen, South Sudan, Nigeria, Pakistan and many other forgotten, and the millions of innocent people suffering their barbarity.
This is only a first step in a new mobilization for peace. We look to the 15 February, anniversary of global protests against the war that took place in 2003.
Let us not tire of shouting it by all means available to men and women walk!
NOT TO THE WAR!"
Ibiza-Click.com
The culture and Ibiza most visited entertainment portal
In Ibiza and more than 20 cities throughout Spain held on Monday, 12 of December, at 18.30 hours a rally in favor of peace and against…