NADAL SAUCE. Indispensable HOUSES IBICENCAS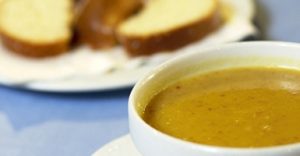 The Nadal sauce It is a typical Christmas dessert in Ibiza and Formentera. A kind of fragrant and tasty liquid nougat not usually lacking in any house during family Christmas celebrations. Although it is not known exactly how long ago was created about, nor really what was their origin, we know it is a tradition that takes more than a century in the Christmas dishes of the Pitiusas.
Nadal Sauce is made with beef broth and spices varied, which crushed roasted almonds mixed with egg are added. It is of medieval origin and is made for Christmas in sufficient quantity to last all parties. It was boiling every two or three days to be preserved. A variety of sauce using water and oil instead of broth. Normal is taking it in cup and hot, more or less thick (although it can take cold), dipping into the cup a piece of cake (cake with sugar on top).
As a curiosity, eggs to make the sauce must always be odd. Another curiosity sauce Nadal is considered a dessert in Ibiza, although in the neighboring Formentera is more salty and dark, by influencing the skin of almonds (sauce Mossona).
The ingredients for the broth They are as follows:
5 liters of broth Gallina
A pinch of white pepper
8 about 10 whole cloves
Salt to taste
A piece of lamb
A piece of pork
If so desired, so you have more consistency, you may add:
A piece of sobrasada
A slice of butifarró
A slice of bacon
For the sauce, the ingredients are the following:
4 kilos of roasted ground almonds
A pinch of white pepper
Saffron strands, roasted and ground
350 gr. of sugar
Cinnamon powder (to taste)
200 gr. of honey
5 eggs
a pinch of salt
To prepare the broth you must follow the following steps:
Boil all ingredients broth. If you have a Thermomix, It facilitates the work and is best controlled heat and cooking time for making broth.
Once the temperature begins to boil over medium heat have to go down for about a minute, strain ingredients broth and let cool in the fridge.
To prepare the dough almond:
a paste with honey should be (I ought to be honey Ibiza), the sugar, the almonds, eggs and saffron. This requires pour all ingredients in a bowl and mix until a homogeneous mass. Always it is more like a Thermomix.
Then, to do a similar balls meatballs (You can add some of the broth as prepared above).

For the working:
Once they are balls ready, it is returned to the broth to a simmer and sev incorporate the sauce pellets one by one, mixing them with movements always in the same direction. When we have a homogeneous mixture, while the take boiling stir for about one hour.
Nadal Sauce can be consumed both hot and cold during Christmas festivities.
good profit!
Ibiza-Chief
Ibiza-Click.com
IBIZA'S MOST VISITED CULTURE AND LEISURE SITE
Nadal sauce is a typical dessert of Christmas in Ibiza and Formentera. A kind of fragrant and tasty liquid nougat not usually missing in a house for…