FEIM DISTRICT, FEIM TRADITIONS, Can Tomeu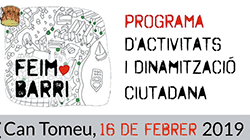 Saturday 16 February's 2019, Since the 11:00 up to the 17:00 hrs., It takes place a new edition of the program of activities and civic revitalization "we do Quarter, we do Traditions", Can Tomeu house in the barrio of n'Escandell en Ibiza.
It is a program of activities which include numerous exhibitions, craft workshops making bread, sobrasada and lugs, talleres de baile paid, of brulada marine horn, flute, urban garden workshop and several lectures by Antoni Marí Marí, Prats and Elisa Cata Pomar. In addition to a cooking show that will offer Marga Orell to S'Ametller and performances of folk dancing by sa Colla de sa Bodega and Colla de Vila, as well as two performances of the Association of Farmers angry, who participated in the promotional video of the event.
Activity program:
artisan and cultural presentation by Feines i Eines – Ibicenca Cultural and Craft Association.
Exposure of the Colla de Sa Bodega.
Payeses cars exhibition by the Association of carters Sant Josep de Talaia.
Exhibition of indigenous breeds of native breeds Federation Pitiusa.
Exhibition of Ibizan herbs Marí Mayans Family.
Exhibition of Ibizan dogs Criadors Association of Ca Eivissenc.
Exhibition of beekeeping Beekeepers Association Eivissa
There will also be workshops preparing sobrasada and butifarra by the Federation Pitiusa native breeds, taller de pan a cargo de Dulces con Sabor y taller de orelletes de la Asociación de Eines i Feines.
Performance of angry farmers.
Payés workshop and flute dance Colla de Vila.
Taller de instrumentos y brulada of conch.
Urban Garden workshop by ecological Semilleros is Fameliars.
Ibiza-Click.com
IBIZA'S MOST VISITED CULTURE AND LEISURE SITE
Saturday 16 February's 2019, Since the 11:00 up to the 17:00 hrs., It takes place a new edition of the program of activities and civic revitalization "we do Quarter, we do Traditions",…