POPULAR CULTURE DAYS PITIUSA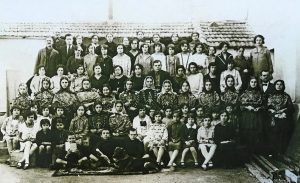 The XVII Conference of Popular Culture Pitiüses them are starring women. They held from 1 to the 30 April and include lectures and cultural visits.
Women in industry, in rural areas, in education or art are some of the specific areas to be addressed during the planned activities, with speakers, all women: hope Bonet, Rosa Vallès, Fanny Tours, Lina Sansano, Elena Ruiz and Catalina Marí.
Among the events include visits to Puget Museum and the Ethnographic Muse, and homage to be rendered to Vicent Ramon Escandell, Vincent 'Jordi', as a relevant person of popular culture.
The conference will be held in the hall of the building of the former Consell Insular, calle de Bes, 9, Ibiza.
PROGRAM OF CULTURAL DAYS XVII POPULAR PITIUSAS
SATURDAY 1 OF APRIL:
To the 20.30 hrs.
Hope Conference Bonet Roig and Rosa Costa Vallès, "Women and industry in Ibiza".
THURSDAY 6 OF APRIL:
To the 20.30 hrs.
Fanny Tur Riera conference, "Women and education".
FRIDAY 7 OF APRIL
To the 20.30 hrs.
Lina Coast Conference Sansano, "The role of women in rural Pitiusan". To the 21.30 h homage to a relevant person of popular culture. Vicent Ramón Escandell, Vicent 'Jordi'. Presentación del libro de las XVI Conference on Popular Culture, leaders, good homes.
Ibiza-Clilck.com
IBIZA'S MOST VISITED CULTURE AND LEISURE SITE
The XVII Conference of Popular Culture Pitiüses them are starring women. They held from 1 to the 30 April and include lectures and cultural visits. The…