ANA FRANK CAN VISIT VENTOSA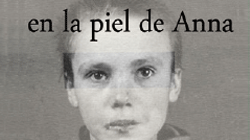 On Tuesday 4 and Wednesday 5 of December, It is shown in matinees for schools in Can Ventosa Theater (Ibiza) the play Ana skin (based on The Diary of Anne Frank) by the Ibizan company Musicaldansa
Ana skin, offered by the company Musicaldansa tells how a high school class performs work on the Holocaust and representing decide to do a play for what they use fragments of the stage adaptation of The Diary of Anne Frank. During the preparation process they are realizing that there are similarities in some current policies with the Nazi regime.
As Otto Frank said: 'To build a future, we must know the past '.
Under the direction of Nadia Banegas, are different intengrantes: Abril Pérez, Alba Lucas, Anna Sanchez, Ariadna Ribas, Aynhoa Torres, Fiona Cases, Irene Guasch, Isabel Guzzi, Javier Tuells, Lidia Torres, Lucia Marí, Magalí Galeano, Sea Osa, Maria Moreno, Mark Stone, Miguel Guasch, Paula Lopez, Tania Escandell, Vicent Guasch and Toni Cerdá.
Ibiza-Click.com
IBIZA'S MOST VISITED CULTURE AND LEISURE SITE
On Tuesday 4 and Wednesday 5 of December, It is shown in matinees for schools in Can Ventosa Theater (Ibiza) la obra de teatro En la piel…