ALL ABOUT ROCK FOR X SOBRASSADA!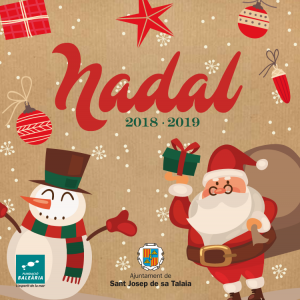 The Friday, 28 of December, starting from the 21:00 hours takes place in Sant Josep de sa Talaia the tenth edition of Rock sobrassada With the performance of three unconsolidated formations in the island's music scene: Rels, Quin delibat and Billy Flamingos ...
Although the party starts at Sant Josep 19:30 hours with collection of home made wine, harvest 2018, to compete in the Wine Competition. You can bring your wine or taste it and participate and vote.
Once we have decided what is the best wine, nothing better to accompany it with spicy sausage and good Rock Live. The event takes place in the tent city that the City Council has installed various events to celebrate Christmas. Of course, Ibizan sobrasada not miss this appointment, to give strength, liven up and continue the party with the bands take the stage to entertain the public. Una cita que ya se hay consolidado como uno de los actos de la navidad josepina.
Good atmosphere and guaranteed fun.
CONCERT
ROCK SOBRASSADA
WHAT Delibes
RELS
BILLY FLAMINGOS
FRIDAY, 28 OF DECEMBER
STARTING AT 21.00 HOURS
FREE ENTRANCE
Ibiza-Click.com
IBIZA'S MOST VISITED CULTURE AND LEISURE SITE
The Friday, 28 of December, starting from the 21:00 horas tiene lugar en Sant Josep de sa Talaia la décima edición del Sobrassada Rock Con la actuación de tres formaciones…