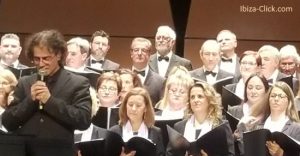 The Coro City of Ibiza He fulfilled this 2019 your firsts 25 years. For this reason we have developed different activities, which is located between the realization of the video documentary "25 Years of Heart of Ibiza Town". The job, produced by Eivisual and directed by Ramon Mayol lasts 22 minutes it becomes a review of his career, since its inception in 1994.
This choir is part of the Municipal School of Music of the City of Ibiza. He has had as directors Nekane Piñuela (1994-1996) and Miguel San Miguel (since 1996). This is a choir to four mixed voices and amateur nature composed of a 60 people. His repertoire meets almost all styles and eras and are traditional in the city of Ibiza concerts for the festival of Easter; festivities; Santa Cecilia and New Year. He has received coral improvement courses for directors like Joan Company, Joan Casas and Maria Carmen Valls, and vocal training courses by pedagogues as Ana Luisa Chova, Pilar Riera or Angela Lewnton.
In 1997 He was selected to participate in the International Music Competition Can Toni Gros and so he made his first concert outside the island of Ibiza. Since then, conciertes has made several different places of the Spanish geography: Lleida (1999); Avila and Segovia (2000); Barcelona, Blanes and Camprodón (2001); Mallorca (2002); Vinaròs (2003); Tolosa (2004); Sevilla (2005); Calvia (2006); Cuenca (2007); Mérida (2008); Ávila (2008); Santiago de Compostela (2009); Palma de Mallorca (2012); Roma (2013); Zaragoza (2014), Milan (2015)…
In honor of recording 2008tuvo, next to the Ciutat d'Eivissa Symphony Orchestra under the direction of Manuel Ramón Mas, the official music of the Group of World Heritage Cities of Spain "Spanish Fantasy", composed by Miguel San Miguel). That same year, on the occasion of the 25th anniversary of the founding of the Group of World Heritage Cities of Spain, both groups interpreted the city of Ávila the world premiere of "Spanish Fantasy".
In 2011 the choir sings in Berlin Verdi's Requiem with other choirs of the Balearic Islands in the Berliner Philharmonie, accompanied by the Berlin Philharmonic Orchestra, directed by José María Moreno Valiente. In 2012 again interpret this work in the Auditorio de Mallorca by the Balearic Symphony Orchestra, directed by Salvador Brotons.
In April of 2013 They sing a concert at the Spanish Embassy in the Vatican and a Mass in the Basilica of Santa Maria Maggiore in Rome, officiated by Cardinal Santos Abril. In October 2015 movimenots interpret a selection of the "Mass of the Armed Homebre", de Karl Jenkins, en la iglesia de Sant'Angelo de Milán.
#Cor25
25 YEARS OF HEART CITY OF IBIZA
Ibiza-Click TV
El Coro Ciutat d'Eivissa ha cumplido este 2019 your firsts 25 years. For this reason we have developed different activities, entre las que se encuentra la realización del vídeo documental…