FILM WITH BLACK FRIDAY IS BELTZA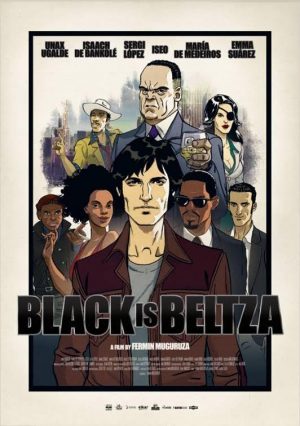 Animated film Black is Beltza Friday is projected, 16 November to the 20:00 Can hour in Jerome, Sant Josep de sa Talaia, within the cycle Friday Film. A film directed by Fermín Muguruza inspired by real events.
Black is Beltza tells us how, in October 1965, the Giants of Pamplona, typical image of the San Fermin Festival, It is invited to parade on Fifth Avenue in New York. But not everyone can go: due to racial discrimination, US authorities prohibit the participation of the two black giants. From this true story, "Black is Beltza" tells the story of Manex, the young man in charge of carrying one of the giants. Doomed to a long and unexpected journey, Manex will witness key events in history: derivatives race riots of the murder of Malcolm X, the eccentricities of the characters in The Factory, the alliance between the Cuban secret services and the Black Panthers, and proto-hippie psychedelia of early music festivals.
The film features the voices of Unax Ugalde, Sergi López, Emma Suarez, Maria de Medeiros, Sergio Arau and Ramon Barea.
Friday Film Series
Black is Beltza
Friday, 16 November of 2018
20:00 hrs.
Can Jeroni Cultural Center
Sant Josep de sa Talaia
Free entrance until full capacity.
Ibiza-Click.com
IBIZA'S MOST VISITED CULTURE AND LEISURE SITE
The animated film is Beltza Black Friday is projected, 16 November to the 20:00 Can hour in Jerome, Sant Josep de sa Talaia, in the cycle Friday…