50 YEARS OF IBIZA CULTURE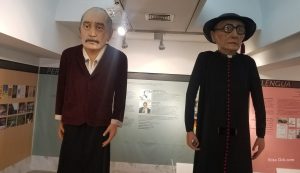 'Institut d'Estudis Eivissencs, 50 years in Catalan' is the title of the exhibition that opens on Monday, 19 of October in Sa Nostra Sala (Ibiza) and that reviews the history of the institution recalls the achievements made in its different areas of activity.
Two great figures preside over the room: Isidor Macabich and Marià Villangómez, two of the five key characters in the history of the IEE and featured prominently in the exhibition together with Joan Marí Cardona, Joan Castelló and Josep Marí, its first president.
In 1949 the first Institut emerged under the tutelage of the Ibiza Town Hall. In that attempt, there were illustrious names such as Isidor Macabich and Mariá Villangómez. Now, the latest 50 of the Institut d'Estudis Eivissencs (IEE), the last stage, which is reflected in the panels and in a video that takes a tour of the different departments and most outstanding activities of the last half century. As its president explains, the room of its history, Mary Mayans, the IEE "is a non-profit organization that seeks to defend and promote culture, nature, the heritage and the territory of Ibiza ".
In 1970 a group of restless young people took up the idea, with Josep Marí as the main driver. A year later the first assembly of partners would arrive and a structure similar to the current one. Year 1977 it's a significant year for the IEE: The beginning of the fight to avoid a project to urbanize ses Salines with the capacity to 20.000 people, marinas and houses that could be reached by boat from the sea. After 26 years, in 2001 the area was protected.
In other areas of this exhibition of Ibizan culture, the IEE's commitment to the Catalan language stands out, such as the courses started in 1970 or the arrival of the TV3 signal in 1987. The exhibition will be open until 30 November of 2020.
Do you want to know the Ibiza culture and leisure agenda?
Ibiza-Click.com
IBIZA'S MOST VISITED CULTURE AND LEISURE SITE
'Institut d'Estudis Eivissencs, 50 years in Catalan' is the title of the exhibition that opens on Monday, 19 of October in Sa Nostra Sala (Ibiza) and what does a…