JOAQUÍN GARLI PRESENTS NEW DISCO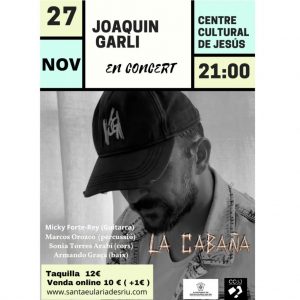 Joaquín Garli returns to the stage to present his latest album: The hut. The concert takes place in the auditorium of the Cultural Center of Jesus on Saturday, 257 November to the 21:00 hrs..
La cabaña is Garli's second studio album that was released in digital format in September 2020 and in January 2021 in physical format. 12 songs that were recorded and mastered in Barcelona by Forteza-Rey together with drummer Marcos Orozco and singer Sonia Torres Arabí.
The title of the disc, The Cabin, It is not chosen at random since for the singer-songwriter, It reflects a personal story of their partner that speaks of the forces that the human being has when faced with an extreme situation we have no choice but to be forced to do everything on our part to be able to get up and get ahead.
The intention of the artist is for the concert to take place in an intimate and warm environment so that the songs can reach directly the hearts of the attendees and for this he will have Sonia Torres Arabí, who will take care of the choirs; bassist Armando Graça, guitarist Miguel Ángel Forteza-Rey and drummer Marcos Orozco. The singers of the Cor des Pla de Jesús with its director Miguel San Miguel have also joined., the Ibizan rapper Aarón del Valle and the actors Rubén Rubio and Claudia Lete, in Garli's words, "Which will have the function of turning the concert into a perfect mix of music and theater".
Like this, Saturday, in Jesus songs like 13, The Cabin, The garden of oblivion, Bonustrack or Manuela try to be a magnifying glass of the society where, In addition, the opinion of the singer-songwriter himself is transmitted, without trying to convince anyone on issues as diverse as the record industry, love, the strength to live, transsexuality or hatred.
Concert
Presentation of 'La Cabaña' by Joaquín Garli
Saturday 27 de marzo de 2021
21:00 hrs.
Centro Cultural de Jesus
Tickets: 12 euros at the box office (of 16.00 to 21.00 hrs.).
Do you want to know the Ibiza culture and leisure agenda?
Ibiza-Click.com
IBIZA'S MOST VISITED CULTURE AND LEISURE SITE
Joaquín Garli returns to the stage to present his latest album: The hut. The concert takes place in the auditorium of the Cultural Center of Jesus on Saturday, 257 of…