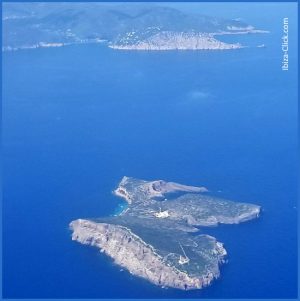 Se ha presentado el Pixmap traditional fishing a tool that, once referred to the Directorate General of Rural and Marine of the Balearic Government, they can defend fixed fishing grounds with arts and crafts stop shooting, performances against the coast that may affect them.
En Tagomago, for example, placing the buoy field will affect both fishing zone "gerretera" as will the loss of catnip area of ​​moruna or loose.
The goal is to make a catalog of fixed points of fishing gear shot ("gerretera") and arts stop (moruna, tonaire, drop), professional fishing gear are characterized by having a specific area of ​​the coast where they are used by a layer of GIS. The tasks performed within the scope of this project have been a first identification of fishing spots for both fishing gear and a study of the temporal evolution of the use of the arts stop from records set in both the Brotherhood Eivissa as Sant Antoni from 1969.
The catalog includes fishing areas around the coastline of the island of Ibiza, and therefore the territorial scope of the two Guilds.
Identifying these areas and their dissemination can help both avoid placing infrastructure in these areas, fields buoys in fishing areas "gerret", as help coastal navigation.
The "gerretera" The rig is used for fishing the "gerret" cove which is always in the same places, and stop gear fixed gear are network are pierced perpendicularly to the coast with one end fixed to the floor and the other by flotation and anchoring elements. The arts are classified stop 4 types, drop, almadravilla o tonaire, trap and moruna, each with different characteristics.
It has conducted a study of evolution in fishing gear stop along time, from 1969. Data show a loss of very important points 36 unused points from of the year 2000, classified as historic, 20 that have not been used in recent 5 years and only 33 points are currently assigned in the drawings that are made to use this point.
From the data obtained from the book of records of the Fishermen's Association of Eivissa and Sant Antoni it has been able to analyze changes in the gear used by fishermen over time. Initially implements used by fishermen were mainly almadravilles and soltas. It is from 1988 to stop using the almadravilla and it is replaced by tonaires, a fishing gear more selective stop for sirvias and dimensions smaller than catnip and make their maintenance more convenient for fishermen. Both rigs are formerly dedicated to fishing for tuna which currently can not be used for fishing of this species by the quota system there.
Ibiza-Click.com
IBIZA'S MOST VISITED CULTURE AND LEISURE SITE
Se ha presentado el Mapa de puntos de pesca tradicionales una herramienta que, once referred to the Directorate General of Rural and Marine of the Balearic Government, se puedan…