Dalt Vila, ONE OF THE 7 WONDERS OF IBIZA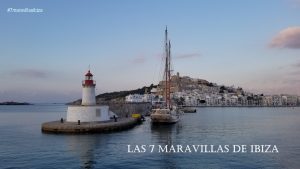 The series about the 7 wonders of Ibiza led by Carlos Garrido for TvClick takes us this time to Dalt Vila. From the arrival by sea "it rises bristling, abrupt, defensive, as if to impress, discourage the invader"…
TvClick presents the series 7 wonders of Ibiza, where Carlos Garrido recounts in first person each of the corners worthy of belonging to this select list.
In the walled city of Ibiza, of the XVI century, resulta imprescindible perderse por los callejones y las pequeñas plazas que ascienden y descienden por su interior. With its anarchic and winding layout, typical of a medieval neighborhood, swirls on the side of a mountain, with its passageways and steps.
"You cross the stone threshold to discover the corners, The alleys, the palaces. The echoes it houses… Dalt Vila is a reality that tells us about ourselves, evoking the characters of other times."
Dalt Vila is one of the 7 Wonders of Ibiza, next to Comte beaches; The Crown Plan; Its salt pans; es Vedra; Puig de Missa and The Towers of Balàfia.
Ver The 7 Wonders of Ibiza (3): Dalt Vila
#7marvelsibiza
TvClick.tv
The first television Ibiza ...
... that emits through Internet
The series about 7 wonders of Ibiza hosted by Carlos Garrido for TvClick takes us this time to Dalt Vila. From the arrival by sea "it rises bristling, abrupt,…