ACTIVITIES ON NOV 25 IN IBIZA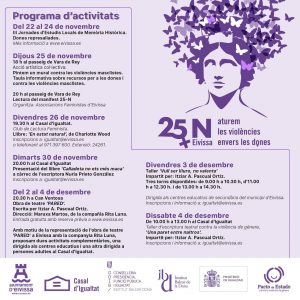 The 25 November marks the International Day for the Elimination of Violence against Women and the City Council of Ibiza has scheduled a series of activities that include conferences on historical memory, theater work, collective artistic action, feminist book club, workshops and manifesto reading.
The first date is with III Conference on Local Studies of Historical Memory that this year dedicates its speeches to reprisal women. You will be able to attend 22 to the 24 November at the Can Ventosa auditorium.
The Thursday 25 November It will have vindictive acts that will begin with a Collective artistic action on the Paseo de Vara de Rey. The activity will start at 18:00 hours and will consist of the painting of a mural against sexist violence. At the same time, An information table will be set up on resources for women and against sexist violence.
The reading the manifesto 25 Nov, organized by the Feminist Associations of Eivissa, will start at 20.00 hrs., also on the Paseo de Vara Rey.
The Friday 26 November, the program will continue with a Feminist Reading Club at 19:30 hours in the Casal de la Igualdad. At the meeting, the book 'In a natural state' will be read., de Charlotte Wood.
The Tuesday 30 November there will be a new appointment with the feminist literature with the presentation of the book 'Calladita, you are no prettier' by Núria Prieto González. It will be at 20:00 hours in the Casal de la Igualdad. Theatrical performances will arrive of the 2 to the 4 December in Can Ventosa, with the work 'Wall' written by Itziar A. Pascual Ortiz. The play is directed by Maruxa Martos, from the Rita Luna company, and it will be free entry with prior reservation at eivissa.es.
On the occasion of the representation of this work, Complementary activities are also proposed at the Casal de Igualdad, one aimed at schools and the other at adults. The workshops will close the program of activities. The Friday 3 December will offer the workshop 'I want to be free, not brave ', taught by Itziar A. Pascual Ortiz, and aimed at students from secondary schools in the municipality. There will be three available shifts of 9:00 to 10:30 hrs., of 11:00 to 12:30 hours and 13:00 to 14:30 hrs..
The Saturday 4 December will be the turn of the theater writing workshop against gender violence 'A wall between us', also taught by Itziar A. Pascual Ortiz, of 10.00 to 13.00 hrs., at the Casal de Igualdad.
#25Nov
Do you want to know the Ibiza culture and leisure agenda?
Ibiza-Click.com
IBIZA'S MOST VISITED CULTURE AND LEISURE SITE
The 25 November is the International Day for the Elimination of Violence against Women and a series of activities have been scheduled from the Ibiza Town Hall…