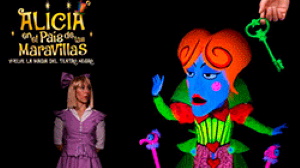 The puppet theater show 'Alice in Wonderland', of the Companion Irú Teatro, occurs, for the second time on Saturday 6 November to the 19:30 hours in the Auditorium of Can Ventosa.
It is a review of 'Alice in Wonderland', the classic tale in which flesh and blood characters intermingle with puppets of different sizes. During the show, Young and old will immerse themselves in a world where fantasy is the protagonist and will regain more meaning with the interaction of real characters with puppets handled by the Japanese technique of Bunraku.
The work, of the Irú Teatro company and under the direction of Raúl Amores, will show puppets from between 60 centimeters and 2 meters. The work is funded by the National Institute of Performing Arts and Music (INAEM).
'Alice in Wonderland' tells us about a restless girl, Alicia, wanting to live adventures. One day, a white rabbit talking, He passes before her ordinary and the girl cannot help but follow him and go into his burrow. From that moment on, Alicia will begin an incredible journey full of magic., songs and fun in which you will have tea with him "Mad hatter". He will also play riddles with the "Caterpillar", help paint the roses in the garden and participate in a croquet match with flamingos, all this if the 'Queen of Hearts' does not cut off his head.
Puppet Theater
Alice in Wonderland
Compañía Irú Teatro
Auditorium Can Ventosa
Ibiza
Advance tickets, that have a price of 10 EUR, available on the eivissa.es website
Do you want to know the Ibiza culture and leisure agenda?
Ibiza-Click.com
IBIZA'S MOST VISITED CULTURE AND LEISURE SITE
The puppet theater show 'Alice in Wonderland', of the Companion Irú Teatro, occurs, for the second time on Saturday 6 November to the…