EXHIBITION OF J C BONET VALLRIBERA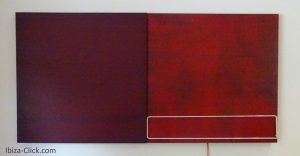 The exhibition '17 quadrats 'by José Carlos Bonet Vallribera can be seen in the anteroom of the plenary hall of the Eivissa City Council. All the selected works have been made in the last two years, which is why they maintain a great unity of style. The polychrome is more than seen, because of the composition of painted and bound wooden plates. The exhibition responds to the expressive economy that revisits the precepts of minimalism and other avant-gardes.
José Carlos Bonet Vallribera is an artist, self-taught and versatile. His work has always spoken for itself. At the Ibiza School of Arts and Crafts he studied Interior Architecture and graduated as an interior designer in 1992. Take advantage of the knowledge and techniques acquired to rededicate yourself to your great passion. In july 1992 holds his first solo exhibition at the Metropolis Gallery in Ibiza. Since then he has continued his artistic path. He bases his method on experimentation, as shown by his creative itinerary, in constant development. His work shows a permanent evolution, that is perceived so much in the incessant investigation of materials, as in the investigation of its plastic values. He has tried various artistic techniques: engraving, sculpture and painting, being also comfortable in the construction of ephemeral environmental works, in dialogue with space, where with neon light he explores the possibilities of sensitive and emotional transformation.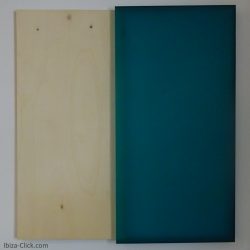 "Es un artista que a lo largo de toda su carrera creativa ha demostrado una coherencia que muchas veces es difícil de encontrar. Right now he is working with a series of materials and a completely minimalist aesthetic that I think is very relevant ", has pointed out the Councilor for Culture, Pep Tur.
On the other hand, the director of the Museum of Contemporary Art, Elena Ruiz, He has said that an effort must be made to penetrate the works of Bonet Vallribera to see what beats and what he means by them. "Use the shape of the square, which is a very Pythagorean form and which is present as a universal symbol in almost all philosophical trajectories or thoughts. The square rests on all four sides, is a strong and solid shape. The works convey a sense of harmony and stability because they are very well supported and built ". Ruiz has also highlighted the importance of the use of color, almost restricted to monochrome, and the light.
The author has explained that lately what he does is "try to investigate with new materials, of construction, and establish a dialogue between painting, sculpture and object. It is basically a dialogue between opposites; the warmth of wood and other materials such as methacrylate or polycarbonate ".
The exhibition will remain on display in the Anteroom of the plenary hall until August 2021.
Ibiza-Click.com
IBIZA'S MOST VISITED CULTURE AND LEISURE SITE
The exhibition '17 quadrats 'by José Carlos Bonet Vallribera can be seen in the anteroom of the plenary hall of the Eivissa City Council. Todas las obras seleccionadas han sido realizadas en…