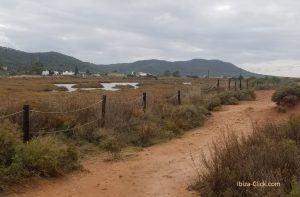 Ir by bike to Ses salines from the city of Ibiza without going through the road is getting closer. Técnicos del Parque Natural de Ses Salines y del Ibanat han completado las tareas de recuperación del carreró de Can Blai, an old public road of about 800 meters, of which 400 they were unworkable.
This new connection opens the possibility for walkers and cyclists to be able to arrive from the city of Ibiza, town, to the far end of the Park without having to travel on roads. You only have to cross the road to Ses Salines once (EI-900) at the height of Sant Francesc, where the Interpretation Center and the church of Sant Francesc are located and from there, you can continue to Es Cavallet, Ses Salines and even sa Caleta, It is Bol Nou and Punta des Jondal.
This section of the restored road runs through a narrow strip of farmland that lies between the airport and the ponds. Es un camino público, municipal y que ahora tiene continuidad con el camino que discurre al lado de las pistas del aeropuerto y los estanques de ses Salines hasta llegar a la playa des Codolar. Long before the construction of the current airport des Codolar, el camino cruzaba el pla de ses Salines desde la iglesia de Sant Francesc hasta la carretera de Vila en Sant Josep, with a total length of about four kilometers giving continuity to many other roads. Now, with the recovery of the carreró de Can Blai, with a variable width of between two and four meters you can go by bike or walking through areas of high landscape and ecological interest.
The intention is to continue, as soon as the pandemic allows it, con la convocatoria de una actividad de voluntariado para colaborar en la recuperación de este camino, en colaboración con la Plataforma para la Catalogación de los Caminos Públicos de Ibiza y el Ayuntamiento de Sant Josep de sa Talaia.
Do you want to know the Ibiza culture and leisure agenda?
Ibiza-Click.com
IBIZA'S MOST VISITED CULTURE AND LEISURE SITE
Ir en bici a Ses salines desde la ciudad de Ibiza sin pasar por la carretera está cada vez más cerca. Técnicos del Parque Natural de Ses Salines y del Ibanat han…