THE TRADITION OF LES CARAMELLES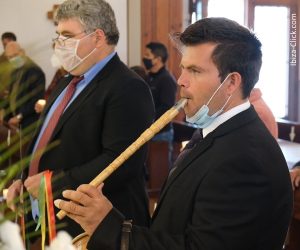 The Candies They are popular songs and an important and living testimony within the tradition of Holy Week on the island of Ibiza. They are protected as Asset of Cultural Interest (Sold), with the type of intangible (BOIB núm. 187, of 15 December 2011). Now you can see them on TvClick
It's a kind of popular song redoubled, very typical in the rural area of ​​Ibiza, sung by the squads that are part of one of the colles de ball and that is accompanied by the traditional instruments of the field in the Pitiusas: castanets, drum, flute and spasi
During the acts of the celebration of Holy Week, from the Culture department, Education and Heritage of the Consell de Ibiza organizes a program of performances of Easter Caramelles by different parishes of the island, in collaboration with the bishopric and this year, with the squad of caramellers "Se Xacoters de sa Torre de Puig d'en Valls".
With the singing of the Easter Caramelles, at mass on Easter Sunday, Lent is over. Caramelles are also sung at the mass of the rooster, In Christmas
TvClick.tv
The first television Ibiza ...
... that emits through Internet
Las Caramelles son canciones populares y un testimonio importante y vivo dentro de la tradición de la Semana Santa en la isla de Ibiza. They are protected as Asset of Cultural Interest…