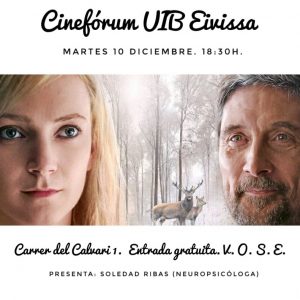 Cinefórum projected Ibiza In body and soul, Ildikó Enyedi but. Directed with sensitivity unusual and endowed with a deep psychological depth that leaves no one indifferent. A sensitive tape, Elegant winner of the Golden Bear at the Berlin Film Festival 2017. It presents: Soledad Ribas, neuropsicóloga.
The film tells a complex relationship. Maria starts working as a supervisor in a slaughterhouse in Budapest, but soon begin to emerge gossip and rumors about her. During lunch always choose to sit alone, and he is aware of its duties and obligations, with strict adherence to standards. His world consists of figures and printed data in its memory from early childhood. Change, Your boss, It is a quiet guy. Both they begin slowly known.
Cineforum
In body and soul
Tuesday, 10 December of 2019
18:30 hrs.
UIB Ibiza
Free entrance
Ibiza-Click.com
IBIZA'S MOST VISITED CULTURE AND LEISURE SITE
Cinefórum Ibiza proyecta En cuerpo y alma, Ildikó Enyedi but. Dirigida con una sensibilidad fuera de lo común y dotada de un hondo calado psicológico que no deja a nadie…