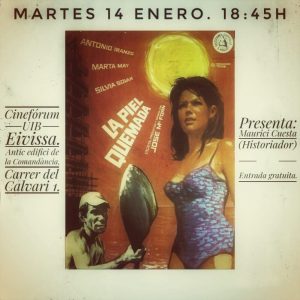 On Tuesday, 14 January, at 18:45 hours is projected in the seat belt UIB Burned skin, within the cycle Cineforum at an event presented by historian Maurici Cuesta. A drama that deals with the phenomenon of emigration Andalusian in Catalonia.
Burned skin, directed by Josep Maria Forn tells us a story about the problem of mass migration from depressed regions of Spain to the most prosperous and developed. In a village on the Costa Brava, a bricklayer starts his workday. At the same time, in an Andalusian village, his wife and two children begin the journey to meet him. During the time he has been he has only had an affair with a Belgian tourist, he has discovered an unsuspected world.
Cineforum Cycle
Burned skin
Tuesday, 14 in January of 2020
18:45 hrs.
See UIB Ibiza
C / Calvary, 1 (former Commandant military)
Ibiza-Click.com
IBIZA'S MOST VISITED CULTURE AND LEISURE SITE
On Tuesday, 14 January, at 18:45 horas se proyecta en la sede de la UIB la cinta La piel quemada, dentro del ciclo Cinefòrum en un acto presentado…