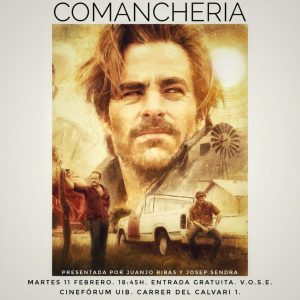 On Tuesday, 11 February to the 18:45 hours takes place a new session of the Cinefórum cycle with the film projection Comanchería, directed by David Mackenzie. It is an action drama directed by Jeff Bridges, Chris Pine, and Ben Foster, with: Gil Birmingham, Martin Palmer, Danny Winn, Amber Mid Dogs, Alma Sisneros, Debrianna Mansisni, Crystal Gonzales, Terry Dale Parks, John-Paul Howard.
Comancheria is a great social western with family background where a young divorced father Toby, Impulsive and his brother Tanner, a convict ex fresh out of jail, They head to West Texas for a series of burglaries in a few bank branches. The aim of Toby is trying to get enough money to save the family farm, which it is in danger. Nothing else commit the first robbery, a Ranger Texas veteran and his partner go on the trail of the brothers.
On this occasion, the film and the present Juanjo Ribas Josep Sendra.
Cinefórum cycle
Comanchería
Tuesday, 11 February's 2020
18:45 hrs.
Sede UIB
C / Calvary,1
Ibiza
Ibiza-Click.com
IBIZA'S MOST VISITED CULTURE AND LEISURE SITE
On Tuesday, 11 February to the 18:45 horas tiene lugar una nueva sesión del ciclo Cinefórum con la proyección del film Comanchería, directed by David Mackenzie. It is of…