MAJOR ARIAN ON CINEMA FRIDAYS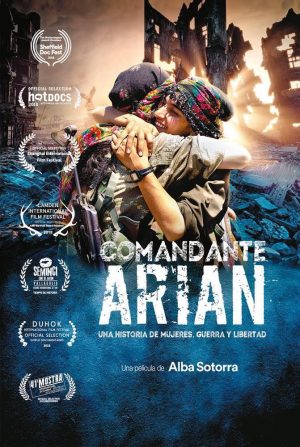 Commander Arian, a women's story, war and freedom is a documentary directed by Alba Sotorra on the war in Syria that is screened in the Friday film cycle of Centro cultural can Jeroni, in Sant Josep de sa Talaia. A shocking proof of solidarity between women ...
A co-production between Spain and Germany that tells us about emancipation and freedom in the face of the war in Syria, Commander Arian guides a battalion of women to Kobane with the mission of liberating the population living under the yoke of Daésh (ISIS). Arian, who, being very young, had witnessed the savage treatment that victims of sexual violence received, does everything possible so that her companions discover the true meaning of her struggle: freedom for the next generation of women. After living for months with the commander and her troops, filming an unprecedented intimacy featuring gritty footage of Arian's slow recovery, Sotorra makes a fascinating portrait of a woman on a mission.
Friday Film Series
Commander Arian, a women's story, war and freedom
Friday, 20 November of 2020
Can Jeroni cultural center
Sant Josep de sa Talaia
19:30 H.
Free entrance until full capacity.
Do you want to know the Ibiza culture and leisure agenda?
Ibiza-Click.com
IBIZA'S MOST VISITED CULTURE AND LEISURE SITE
Commander Arian, a women's story, guerra y libertad es un documental dirigido por Alba Sotorra sobre la guerra de Siria que se proyecta en el ciclo Viernes de Cine…