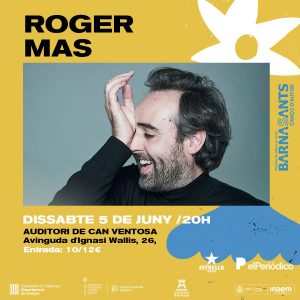 The catalan singer-songwriter, Roger Mas performs at the Can Ventosa Auditorium, in Ibiza, next Saturday, 5 June to the 20:00 hrs.. With more than two decades of career, the artist is the creator of hits like Les cançons tel·lyrical.
Roger Mas was born in Solsona (Lleida) in 1975 and began instrument studies (sax and clarinet) to the 5 years of the hand of his grandfather. To the 12 years began his artistic activity as clarinetist and saxophonist. From 1994 investigate the various musical expressions of the world with master L. Paniagua.
The Exit Award of Catalunya Ràdio, you received in 1996, presents the starting point of his career as a singer-songwriter. Since then, nine discs, several awards for each new work and the wide recognition of critics made him the new figure of the 'cançó'.
His music is inspired by three pillars: modern music, the traditional and ancient sounds of the world. In his lyrics he mixes the language of the street and the literary language, not forgetting the old ways of talking that are being lost.
Mingus B. Formentor, de La Vanguardia le considera la voz más bonita que ha dado hasta hoy la canción catalana y ha actuado en países como Francia, Cuba, Italy, Uruguay, Serbia, United States Brazil. Among his discography is:
Les Flors del Somni (1997)
Casafont (1999)
Roger Mas & Les Flors en el camí de les serps i els llangardaixos blaus cap a la casa de vidre de la Senyora dels Guants Vermells (2001)
dp (2003)
Mística domèstica (2005)
The songs tel·lyrical (2008)
A la casa d'enlloc (2010)
Roger Mas and the Cobla Sant Jordi – Ciutat de Barcelona (2012)
Irredempt (2015)
Parnàs (2018)
Concert
Roger Mas
Auditorium Can Ventosa
Ibiza
Saturday, 5 June 2021
20:00 hrs.
Price: 10 € advance and 12 € at the box office
Do you want to know the Ibiza culture and leisure agenda?
Ibiza-Click.com
IBIZA'S MOST VISITED CULTURE AND LEISURE SITE
The catalan singer-songwriter, Roger Mas performs at the Can Ventosa Auditorium, in Ibiza, next Saturday, 5 June to the 20:00 hrs.. Con más de dos décadas de…