CONCERT OF THE REBELS IN THE FESTIVALS OF THE EARTH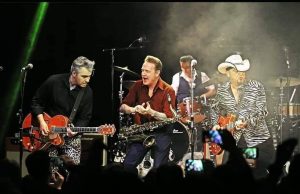 The group Los Rebeldes replaces Mago de Oz in the concert scheduled for the Festes de la Terra.
The Wizard of Oz group, whose performance was one of the highlights of this year's program of the Festes de la Terra de Ibiza, has had to suspend his performance in Ibiza and his tour "At tour boarding", due to the disease of two of its components.
The Spanish rock and roll and rockabilly group Los Rebeldes replaces them in the concert on Friday 5 in August of 2022, performing in Ibiza as part of his tour "Crock and Roll".
Coming from Barcelona and led by Carlos Segarra, Los Rebeldes has sold a million records and is the most important rockabilly group in our country.. His compositions have opened up to soul influences, surf or swing forming a very characteristic style, with themes that have been true successes such as "under the moonlight", "My generation", "Mescaline" about "Mediterranean".
The Rebels concert
Friday 5 in August of 2022
Reina Sofia Park
22.30 hrs.
Artisans can participate for free
Do you want to know the Ibiza culture and leisure agenda?
Ibiza-Click.com
IBIZA'S MOST VISITED CULTURE AND LEISURE SITE
The group Los Rebeldes replaces Mago de Oz in the concert scheduled for the Festes de la Terra. The Wizard of Oz group, cuya actuación era uno…