SANTA CECILIA CONCERTS IN IBIZA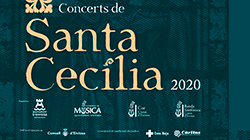 The cultural space of Can Ventosa will host the next days 21 and 22 November the concerts that the Cor Ciutat d'Eivissa and the Symphonic Band will offer on the occasion of the celebration of Santa Cecilia, festival of musicians.
Both concerts are charity and the proceeds will go to the Red Cross and Cáritas.
Ibiza Town Choir Concert
Saturday 21 November, at 19:00 hrs., the Ciutat d'Eivissa Choir offers a concert that will feature works composed during confinement by the director, Miguel San Miguel and which is performed for the first time before the public, as "We want to be together ". In addition, under the name 'Confinement Diary' (of the author and member of the choir, Jesus Ballesteros) the choir will make a tour that will range from songs by composers such as Mozart, Beethoven or Händel to themes like "What a Wonderful World" or a performance of the Cinema Paradiso soundtrack.
Tickets for this concert can be purchased at the Red Cross, in avenue of Spain, No.. 51, of 8 to 20 hours and in Can Ventosa the same day of the concert of 18 to 19 hrs.. The price is of 5 EUR, minimum donation.
Concert by the Ibiza City Symphony Band
Sunday 22 November, at 12:00 hours and under the direction of Miguel Ángel Aguiló, the Symphonic Band Ciutat d'Eivissa offers a concert with new compositions by the same director. Under the name 'Paraskevidekatriofobia' you will be able to enjoy a light and comic play that speaks of fear, of phobia to the number 13 and everything that surrounds you.
Tickets for the concert of the Symphonic Band can be purchased in advance at Caritas on Felipe II street, No.. 16, of 9.30 to 13.30 hours and the same day of the concert at Can Ventosa in 11 to 12 hrs.. The price is of 5 EUR, minimum donation.
Do you want to know the Ibiza culture and leisure agenda?
Ibiza-Click.com
IBIZA'S MOST VISITED CULTURE AND LEISURE SITE
The cultural space of Can Ventosa will host the next days 21 and 22 de noviembre los conciertos que ofrecerán el Cor Ciutat d'Eivissa y la Banda Simfònica con motivo de…