MY DEAR MISS IN CINEFORUM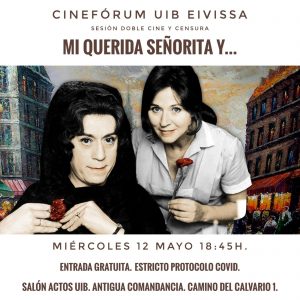 A Spanish proposal of 1972 that addresses the transgender issue, My dear lady, directed by Jaime de Armiñán, is screened in the Cinefórum cycle. The cast has: Antonio Ferrandis, Chus Lampreave, Jose Luis Lopez Vazquez, Julieta Serrano, Lola Gaos, Monica Randall
The director managed to avoid censorship and show us this film without a cut
any, "Thanks to the little sagacity of the film's censors who
they stayed on the surface and were not able to go further ". This drama / comedy tells us how Adela Castro, a mature spinster who lives in a provincial city, knows that she is not a normal woman: she shaves every day and is attracted to her maid Isabelita. She has spent her life believing that she has remained single because of being physically unattractive. Certain psychological disorders lead her to see a doctor.
At the end of the screening there is a discussion with the participants and the organization.
Cinefórum cycle
My dear lady
Wednesday, 13 May 2021
18:45 hrs.
Headquarters of the UIB
C / Calvario, 1
Ibiza
Free entrance until full capacity.
Do you want to know the Ibiza culture and leisure agenda?
Ibiza-Click.com
IBIZA'S MOST VISITED CULTURE AND LEISURE SITE
A Spanish proposal of 1972 that addresses the transgender issue, My dear lady, directed by Jaime de Armiñán, is screened in the Cinefórum cycle. The cast has: Antonio Ferrandis, Chus…