EIVISSA JAZZ OFFERS TWO FREE CONCIERT0S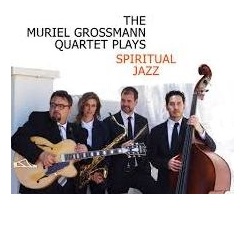 With reason 30 anniversary, on Eivissa Jazz Festival It offers two free concerts, Besides the five nights of performances scheduled.
The first of these concerts will take place on Paseo de Vara de Rey on Friday, 31 August, starting from the 21:00 hours in charge of Muriel Grossmann. On Monday, 3, at 20:00 hrs. Omar Alcaide will offer the second free concert in Ibiza Gallery Art Projects.
The quartet of saxophonist Muriel Grossmann, presenting his new job: Spiritual Jazz, It is made up: Radomir Milojkovic (Guitar), Uros Stamenkovic (battery) y Gina Schwarz (double bass).
One of the emerging values ​​of jazz in Eivissa, He is the young guitarist Omar Alcaide. This time the festival will move to Ibiza Art Projects gallery, is located in Gorg, where Alcaide act with trumpeter Pedro Navarro, He drummer Dani and Lorenzo Domínguez Barceló on keyboards, accompanied by the work of Chicago artist Tony Lewis.
In this way, Eivissa Jazz expands its programming up to seven days of concerts, three of them completely free, and complete your poster for this anniversary edition.
Like this, that 2018 jazz fans will enjoy concerts by Silvia Pérez Cruz, Eli Degibri, Eivissa Jazz Experience, Anders Fjeldsted, Pablo Martín Caminero, Pedro Arguimbau, Ibiza Town Big Band, Antonio Serrano and María Toro, In addition to the Muriel Grossmann and Omar Alcaide. Eleven performances for a very special edition of our festival, which will again feature José Miguel López, director and presenter of the program Discópolis of RNE3, as master of ceremonies.
The program RNE3, Discópolis will broadcast the concerts of Eivissa Jazz Festival last year. The broadcast schedule of the concerts will be as follows:
Tuesday 28 August: M.A.P.
Wednesday 29 August: Ximo Tebar
Thursday 30 August: Kontxi Lorente
Friday 31 August: Abe Rabade's Eivissa Jazz Experience
Monday 3 September: Malmstrom
Tuesday 4 September: Marcin Wasilewski Trio
Wednesday 5 September: 26 Ximo Tebar minutes, 7 Abe Rábade minutes and Eivissa Jazz Experience 5 Marcin Wasilewski Trio minutes, Sintonía addition to the festival created by Abe Rábade.
Ibiza-Click.com
IBIZA'S MOST VISITED CULTURE AND LEISURE SITE
With reason 30 anniversary, Eivissa Jazz Festival offers two free concerts, Besides the five nights of performances scheduled. The first of these concerts will take place in the…