STOP EXHIBITION, THAT I GO DOWN!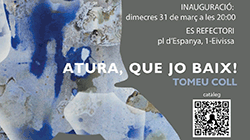 The exhibition 'Stop, that I go down!', by the Mallorcan artist Tomeu Coll can be visited in the Refectory room of the Eivissa City Council throughout the month of April.
The title of the exhibition 'Stop, that I go down!' refers to one of Groucho Marx's best-known phrases and is inspired by his most surreal and well-known phrases. The common thread is the word and these phrases help the artist to ask again everything, raise doubts and paint answers.
'Coll is an artist who has already exhibited in Eivissa on several occasions in group exhibitions and individually in Es Polvorí in 2016. In the same way, his career has taken him to numerous countries on different continents.. Now that cultural activity is gaining momentum on our islands, We believe that hosting exhibitions like this one by artists from the Balearic Islands, both individual and collective, it favors the circuit of our environment and the departure of the artists of Eivissa to present their work in other places '. The Councilor for Culture has pointed out, Pep Tur.
Coll's work is characterized "by the mixture of figurative elements - where the human figure and geometric elements full of symbolism stand out- on abstract backgrounds where ocher tones always predominate. Its theme often moves around society and seeks to establish a dialogue, sometimes critical, with the viewer".
The exhibition can be visited on days 1, 2 and 5 April, Holy Week holidays, in hours of 11.30 to 13.00 hours until 30 April, working days during business hours 8.00 to 15.00 hrs..
Do you want to know the Ibiza culture and leisure agenda?
Ibiza-Click.com
IBIZA'S MOST VISITED CULTURE AND LEISURE SITE
La exposición 'Atura, that I go down!', by the Mallorcan artist Tomeu Coll can be visited in the Refectory room of the Eivissa City Council throughout the month of April. El título…