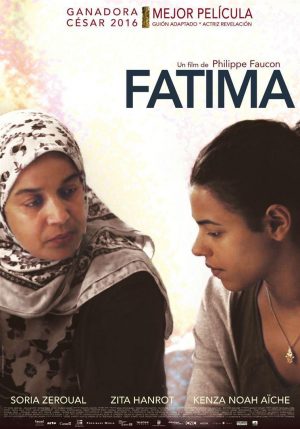 In the Friday cinema cycle of Can Jeroni we can enjoy the film Fatima, by French director Philippe Faucon. A moving film that confronts us with our democratic contradictions.
Fatima is a France-Canada co-production, recognized by critics, that tells us how an immigrant Muslim of Arab origin, Fatima, she is the mother of two daughters: Souad, a rebellious teenager from 15 years and Nesrine, a young woman 18 years that you are starting university and want to be a doctor.
You can watch the film through two modes: the first is online, which you can access through:
cultura.santjosep.org/es/agenda/online-sala-virtual-de-can-jeroni-fatima/
The second modality is in person at the Can Jeroni Culture Center on Friday, 26 February to the 20:00 hrs.. To get your free invitations you can click on the "Invitations" button on the previous link.
Based on the regulations that, due to COVID-19, regulate the carrying out of cultural activities in closed spaces and outdoors, The appropriate attendance control and safety and hygiene regulations in force on the date of the activity will be applied.
Friday Film Series
Fatima (VOSE)
Friday, 26 February's 2021
20:00 hrs.
Can Jeroni Culture Center
Sant Josep de sa Talaia
Para acceder en la Can Jeroni virtual cinema y ver la película en línea es necesario llenar el formulario de registro que encontrará a continuación. Through this registration we will send access to the film to your email address.
The film will be available from Friday 26 February to the 20:00 h until sunday 28 February to the 24:00 hrs..
Do you want to know the Ibiza culture and leisure agenda?
Ibiza-Click.com
IBIZA'S MOST VISITED CULTURE AND LEISURE SITE
En el ciclo Viernes de cine de Can Jeroni podemos disfrutar de la película Fatima, by French director Philippe Faucon. Una cinta conmovedora que nos sitúa frente a nuestras contradicciones…