AGUA VIVA! (Vol. 3): SA FONT DEN Miquelets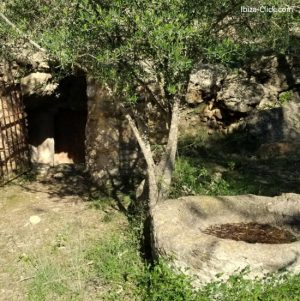 In the third volume of the series aimed at wells and springs of the island, Living water!, the producer has launched Eivisual, It appears one of the most picturesque and spectacular fountains: Sa Font den Miquelet, that Archduke Ludwig Salvator of Austria dubbed Joan Font den Armed.
The archduke was charmed by the place, what in 1867 writes: "Area sources are distinguished by their lush flora and freshness, which stand out markedly from the rest of the landscape ". She chose him as one of his favorite resting places, The corner of the archduke.
A few years ago the power was restored and the weeds were deforested around them, which features a lush cañaveral, a joint regulation with Pool, noria, a bridge over the small stream and huge walls that close the estate of ca n'Armat. Although today, the source is dry.
But the biggest feature of this source is the mural paintings almangra (almàguena), with geometric and floral motifs, They are decorating the chapel of the source. There is a date engraved on the plaster on the walls of the adjoining pool: 1823, so it is believed that the paintings are of that year.
The creators of this series of video documentaries are Josep Joan i Marí ("Pep Xomeu") and Ramon Mayol. The first installment is destinaba the hydric heritage of San Carlos and the second of Santa Eulalia. The project is accompanied by a book in print, Ramon Mayol pictures and texts by Pep Xomeu, glosses mostly the author makes songs, whose melody joins the audiovisual.
In this new release, focused on wells and springs of Santa Gertrudis de Fruitera, also they include, in the book (Editions published Isolated), texts, glosses in prose and accompanying photographs
AGUA VIVA! (Vol. 3)
Santa Gertrude des Fruitera. sales, pous i fonts.
Ibiza-Click TV
In the third volume of the series aimed at wells and springs of the island, Living water!, the producer has launched Eivisual, one of the sources appears…