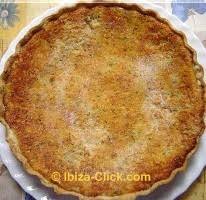 flaó, It is the typical dessert of Ibiza and Formentera, traditionally it elaborated on Easter Sunday and today can be found throughout the year in restaurants and patisseries. En nuestra sección de gastronomía te damos la receta, Step by Step, para elaborarlo…
Although its origins date back to the Middle Ages, flaó recipe has been preserved by the farmers to this day in full, in it together tradition and flavor with aromas of goat and sheep cheese and mint.
Ingredients:
For the base
1 cucharada manteca de cerdo
500 grs. de harina de trigo
3 eggs
200 grs. white sugar
1 cucharada levadura
2 cucharadas licor de anís
For the filling
500 grs. de queso fresco de cabra
4 eggs
375 grs. white sugar
10 hojas hierbabuena
Instructions:
We prepare the base beating 3 eggs and sugar.
We incorporate the remaining ingredients and knead.
Let rest 15 minutes.
As we prepare the filling by beating the rest of the eggs and sugar.
Add the shredded cheese and mix well.
We add 6 mint leaves. If you like it can take more.
Recovered mass and stretched with a roller on a floured surface.
Cover with it a mold that you previously greased and floured to prevent sticking.
Pour the mixture of the filling on the rolled dough and place, as decoration, 4 mint leaves in the center.
Bake at 180 degrees for 50 minutes.
Let cool and sprinkle with sugar.
good profit!
Ibiza-Click.com
IBIZA'S MOST VISITED CULTURE AND LEISURE SITE
flaó, It is the typical dessert of Ibiza and Formentera, que tradicionalmente se elaboraba el Domingo de Pascua y que en la actualidad se puede encontrar durante todo el año…