FESTIVAL OF HUMOR OF IBIZA 2019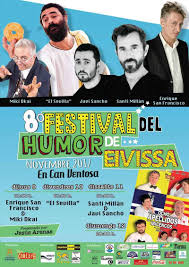 arrive VIII Festival of Humor Ibiza, This year marks the 9 to the 12 November at Can Ventosa with faces as well known as the national comedy Enrique San Francisco, Santi Millán and Sevilla.
In addition, the festival of humor closed doors on Sunday 12 November to the 20:00 hours 'Eight Ibizan surname', a comedy that filled the two functions at its premiere and returns to the stage Pitiusan "by popular acclaim", He joked this morning José Boto, he has written and directed the piece and, In addition, It is the organizer of the contest mood.
The festival begins 9 November to the 21:00 Miki Dkai hours and Enrique San Francisco and continues the 10 November in Seville with its 'Reflections language of man'. Saturday 11 It will be the turn of Santi Millán and Javier Sancho, which will bring the show 'We're better than ever'.
The price of tickets is Comedians 18 euros in advance and 20 at box office, while the price of admission for 'Eight Ibizan surnames' is of 10 EUR (only price).
Boto confident that the Ibizan public again respond to the proposal from Ibiza Comedy Club, in previous years it has filled the four day festival.
By Michelle Torres
Ibiza-Click.com
IBIZA'S MOST VISITED CULTURE AND LEISURE SITE
Llega la VIII edición del Festival del Humor de Ibiza, This year marks the 9 to the 12 de noviembre en Can Ventosa con caras tan conocidas de la…