THE UNDERCARD OF IBIZA: GUAPA WHAT I AM!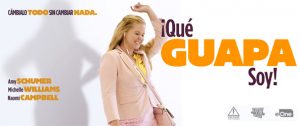 The romantic comedy How beautiful I am! It is the novelty of this week in Ibiza theaters. Tells how an ordinary girl (Amy Schumer), every day facing their insecurities, awakens from a fall believing that suddenly is the most beautiful and capable woman on the planet. With this new self-confidence he feels able to live your life without complexes or limitations but, What happens when you realize that your appearance has not really changed?
BILLBOARD COMPREHENSIVE IBIZA:
THE MOVIE THEATERS:
MULTICINES IBIZA
Ibiza
How beautiful I am!
Schedule
17-06-2018 12:05 h
19-06-2018 16:00 18:10 20:20 22:30 h
21-06-2018 16:00 18:10 20:20 22:30 h
Based on true events
Schedule
19-06-2018 22:25 h
21-06-2018 22:25 h
champions
Schedule
16-06-2018 15:45 h
17-06-2018 12:05 15:45 h
18-06-2018 15:45 h
20-06-2018 15:45 h
Deadpool 2
Schedule
17-06-2018 12:05 h
19-06-2018 18:05 20:25 h
21-06-2018 18:05 20:25 h
Han Solo: A story of Star Wars
Schedule
19-06-2018 17:15 19:50 h
21-06-2018 17:15 19:50 h
Han Solo: A story of Star Wars (VOSE)
Schedule
19-06-2018 20:25 h
21-06-2018 20:25 h
Jurassic World: The kingdom fallen
Schedule
16-06-2018 16:00 18:30 21:00 h
17-06-2018 12:05 16:00 18:30 21:00 h
18-06-2018 16:00 18:30 21:00 h
19-06-2018 17:00 18:30 19:30 21:00 22:00 h
20-06-2018 16:00 18:30 21:00 h
21-06-2018 17:00 18:30 19:30 21:00 22:00 h
Sherlock Gnomes
Schedule
16-06-2018 15:30 h
17-06-2018 12:05 15:30 h
18-06-2018 15:30 h
20-06-2018 15:30 h
Truth or Dare
Schedule
19-06-2018 22:40 h
21-06-2018 22:40 h
THE MOVIE THEATERS:
REGAL CINEMA
Sant Antoni
Jurassic World: The kingdom fallen
Schedule
16-06-2018 17:15 19:45 22:15 h
17-06-2018 17:15 19:45 22:15 h
18-06-2018 19:00 21:30 h
19-06-2018 19:00 h
20-06-2018 17:15 19:45 22:15 h
21-06-2018 19:00 21:30 h
Jurassic World: The kingdom fallen (VOSE)
Schedule
19-06-2018 22:00 h
THE MOVIE THEATERS:
TEATRO SPAIN
Santa Eulalia

Han Solo: A story of Star Wars
Schedule
16-06-2018 21:30 h
17-06-2018 19:00 h
Han Solo: a story of Star Wars (VOSE)
Schedule
16-06-2018 19:00 h
17-06-2018 21:30 h
Ibiza-Click.com
IBIZA'S MOST VISITED CULTURE AND LEISURE SITE
La comedia romántica ¡Qué guapa soy! It is the novelty of this week in Ibiza theaters. Tells how an ordinary girl (Amy Schumer), que se enfrenta cada día…