LeOigo.es
TALKING BOOKS
A new download portal designed for use from mobile phone.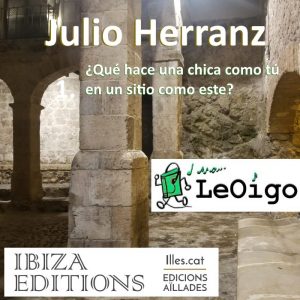 Ibizan publishing Edicions Aillades launches audio download platform, perfect for listening from devices like mobile phone.
Thus, books are already available in four formats: Print edition, digital edition (both e-pub, and the e-book in pdf), audio book and now, with LeOigo in "streaming" or podcasts. A fashion trend that makes it possible to listen to stories or music publishing authors from any device.
The island of Ibiza is suffering, in recent months, the closure of many small local bookstores and publishers have no choice but to adapt to new trends and offer attractive readings through new technologies.
Without leaving the printed edition, LeOigo commitment to innovate and offer very affordable prices (some, even for free) titles as: What does a girl like you doing in a place like this?, of Julio Lordwith; Rare Rain, of Carles Fabregat; The year in pictures, of Marià, or language of waves, of Ramón Mayol, creator of literary platform that hosts illes.cat LeOigo, among many others.
Music also has a place in the LeOigo format. The suite three times "Spanish Fantasy", of Miguel San Miguel, It can be downloaded completely free of charge.
The intention is to add new titles progressively.
LeOigo.es
TALKING BOOKS
TALKING BOOKS LeOigo.es A new download portal designed for use from mobile phone. Ibizan Editorial Edicions Aïllades launches a download platform audios, perfect…