I IBIZA TOURISM FORUM AWARDS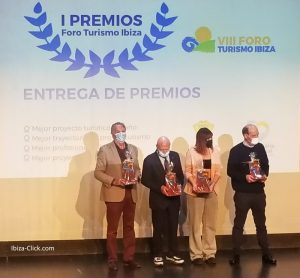 The 1st Ibiza Tourism Forum Awards have been awarded, in an act that took place in the auditorium of the Centro Cultural de Jesús, within the framework of the VIII Ibiza Tourism Forum that this year had as title "Innovation: key to the differentiation and specialization of the tourism sector ".
Like this, los primeros Premios Foro Turismo Ibiza, have been:
Best tourism project of the year, Ibiza Botanical Biotechnology. Collect the prize, Eduardo Mayol.
Best trajectory in favor of tourism, Ibiza School of Tourism. Collect the prize, Vicente Guasch.
Best professional, Abel Matutes Juan. Who collects his prize personally.
Best training project, The Network. Collect the prize, Natalia Tur Marí
In addition, el congreso ha contado con cuatro paneles en los que han participado expertos y personalidades como Diego Calvo, de Concept Hotel Group;Mary Ritter, Director of the Repsol Guide; Elena Davara y Laura Davara, de Davara & Davara; Blanca Pérez-Sahuquillo, de Tourspain, about Alvaro Carrillo, executive director of the Instituto Tecnológico Hotelero.
Como moderadores han estado profesionales como Sonia Escribano, director of TEF; Antonio Beneyto, food journalist; Jose Maria Costa, CEO de Neobooking o Juan Maestre, director of Preferential.
Do you want to know the Ibiza culture and leisure agenda?
Ibiza-Click.com
IBIZA'S MOST VISITED CULTURE AND LEISURE SITE
The 1st Ibiza Tourism Forum Awards have been awarded, in an act that took place in the auditorium of the Centro Cultural de Jesús, en el marco del VIII Foro…