INTERNATIONAL DAY AGAINST CLIMATE CHANGE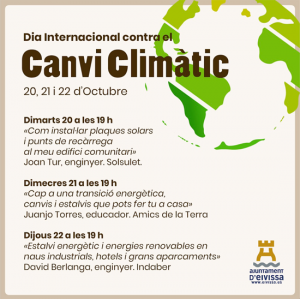 The International day against climate change takes place on saturday, 24 October and from the Ibiza Town Hall, different initiatives have been launched, such as several online talks on energy transition and the use of renewable energy.
Jordi Salewski, Councilor for the Environment has indicated that 'it is important to raise awareness that everything we do today has an impact on the future. The energy transition with the use of renewable energies is already being worked on by the Eivissa City Council in different projects such as the installation of solar panels in public buildings. With the planned program of talks, we will provide interested parties with information on how to advance in this regard in the domestic sphere and continue taking steps together towards respecting the environment and the fight against climate change. '.
The 20 October activities begin with a videoconference by Joan Tur, Solsulet Industrial Engineer. With the talk 'How to install solar panels and charging points in my community building', explain the necessary procedures with practical examples, costs and benefits for the environment. He will also talk about how to install charging points for electric vehicles in private car parks.
On Wednesday 21 October, Juanjo Riera, Friends of the Earth environmental educator will explain how we must do to change consumption habits and reverse the most negative effects of climate change. It will be in the talk 'Towards an energy transition, changes and savings that you can make at home '.
The last of the activities will be a videoconference on 'Energy saving and renewable energies in industrial buildings, hotels and large car parks ', which will be in charge of David Berlanga, Indaber Ibiza industrial engineer. Will be thursday 22 October.
All the activities, which are free, prior registration and can be followed at 19 hours on the district07800 website. Las personas interesadas en participar en estas actividades pueden inscribirse en la sección de webinars de districte07800.cat
Do you want to know the Ibiza culture and leisure agenda?
Ibiza-Click.com
IBIZA'S MOST VISITED CULTURE AND LEISURE SITE
El Día internacional contra el cambio climático tiene lugar el sábado, 24 de octubre y desde el Ayuntamiento de Ibiza se han puesto en marcha diferentes iniciativas como varias charlas…