SNOW IN BENIDORM A LA FRESCA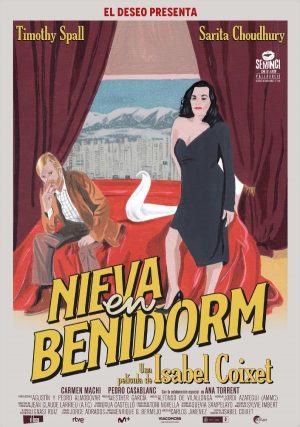 A Thriller directed by Isabel Coixet in the Fresh Cinema cycle in Sant Josep: It snows in Benidorm, that is projected this Friday at 22.00 hours in the old school yard. A somewhat eccentric and surprising portrait with an atmosphere that captivates.
Nieva en Benidorm nos cuenta cómo Peter Riordan, a lonely man, maniac and methodical, haunted by weather phenomena, when he is given early retirement at the Manchester bank where he has worked all his life, he decides to visit his brother, Daniel, who lives in Benidorm. Upon arrival in the city, he discovers that his brother has disappeared and that he was the owner of a burlesque club where Alex works., a mysterious woman who exerts a powerful fascination on him. Peter and Alex try to find out what happened to Daniel, helped by a police obsessed by the presence of Sylvia Plath in the fifties in Benidorm.
Outdoor cinema
It snows in Benidorm
Friday, 23 July of 2021
22:00 hrs.
Old school playground
Sant Josep de sa Talaia
Free entrance until full capacity.
Do you want to know the Ibiza culture and leisure agenda?
Ibiza-Click.com
IBIZA'S MOST VISITED CULTURE AND LEISURE SITE
A Thriller directed by Isabel Coixet in the Fresh Cinema cycle in Sant Josep: It snows in Benidorm, that is projected this Friday at 22.00 horas en el…