THE END OF THE WORLD, MICRO THEATER TEXT CONTEST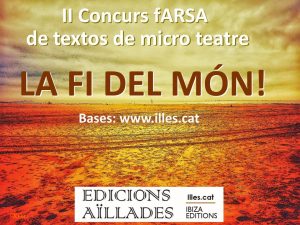 Edicions Aïllades launches "The End of the World!", the second edition of its Concurs fARSA of micro theater texts, to collect the best works delivered in a volume of the FARSA collection of dramaturgy of the publisher.
Edicions Aillades promotes literary creation on the island and specifically of stage texts written in Catalan with the celebration of the second edition of this contest, cuya primera convocatoria ganó "Temptation", of Bernat Joan, obra que dio título al libro en el que se recogieron éste y el resto de textos finalistas.
On this occasion, los textos que participen deben contener temáticas vinculadas al end of the world. In addition, tienen que estar escritas in catalan, ser original y no haber sido presentadas en otros certámenes.
Deben ser piezas de pequeño formato, pensadas para un máximo de tres actores y con una duración no superior a los 15 minutes.
Pueden optar al concurso dramaturgos y dramaturgas mayores de 16 years, tanto nóveles como profesionales, pero solo se puede presentar un texto por persona.
Si dos obras quedaran empatadas, el jurado valorará la presencia de personajes femeninos en las mismas.
El ganador no podrá participar en la próxima convocatoria, pero formará parte de su jurado.
The judge, formado por por profesionales de las artes escénicas propuestos por Edicions Aïllades, podrá seleccionar un máximo de 13 works.
Again, el premio para el ganador y los finalistas supone ver publicados sus textos en un volumen de la colección fARSA de dramaturgia de Edicions Aïllades.
El plazo para presentarse al concurso es del 13 from May to 31 in October of 2022. The winner and the finalists will be announced during the first fortnight of December 2022 with a press release and will be published on the Literary Platform www.illes.cat.
See complete bases in:
HTTPS://www.ibizaeditions.com/ii-certamen-farsa-micro-teatre/
The end of the world!
II fARSA Micro Theater Text Contest
Of the 13 May to 31 in October of 2022
Do you want to know the Ibiza culture and leisure agenda?
Ibiza-Click.com
IBIZA'S MOST VISITED CULTURE AND LEISURE SITE
Edicions Aïllades launches "The End of the World!", the second edition of its Concurs fARSA of micro theater texts, to collect the best works delivered in a volume of the…