PETALS BACK LIGHT TO THE ISLAND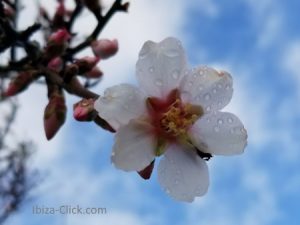 In February, Encouraged by the temperate Mediterranean climate, They begin to bloom the first varieties of the thousands of almond trees on the island.
About to be a flower and be nothing
is your flower, almond;
in love, conceiving bower,
Mother Earth.
Do not be spring: stay away!,
stay! in the soul, almendro:
sed only purpose of green,
green without being.
(poems of love and war.
Miguel Hernandez)
More than 117.000 almond islands foreshadow the fantastic image of the fields covered by white blanket of delicate flowers, which it occurs between January and February. Everywhere we are surprised this advance of spring, either alone or in a copy of a more extensive planting, which makes visitors enjoy contemplating this spectacle of nature wrought by man.
If we approach these trees we can see in more detail the variety of color flowers ranging from pure white to pink. Photography lovers are guaranteed a unique opportunity to take an unforgettable memory.
The massive introduction of almond cultivation occurred after phylloxera late nineteenth century decimated vines. It grows mostly in Mallorca and Ibiza. We can taste natural fruit, toasted or as part of the islands gastronomy, especially in its confectionery. We were also surprised to find in perfumeries products derived from fruits and flowers of this unique tree.
Ibiza-Click.com
CULTURE AND LEISURE IN ONE CLICK
In February, Encouraged by the temperate Mediterranean climate, They begin to bloom the first varieties of the thousands of almond trees on the island. About to be flower…