THEATRE: LORCA LORCA YOU WANT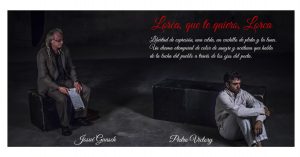 Saturday, 25 January, at 20:30 hrs., Can Jeroni Cultural Center, in Sant Josep de sa Talaia, It takes place the representation of the play I love you Lorca Lorca, of the company Teatrix, protagonizada por Josué Guasch y Pedro Victory.
The work shows how poetry can change people and about seventy years after the death of the genius still suffer situations of repression by ideological reasons. The work puts us in prison.
Freedom of expression, a cell, a silver knife and moon. Un drama atemporal de color sangre y oliva, He is speaking of the struggle of the people through the eyes of the poet. Grates background and three black wooden cubes as the soul of the poet are our sober and austere scenery. Painting of a cell. Music, the images, masked characters and lighting will take us directly to the lorquiano imaginary and rend our souls from minute zero.
Lorca Federico Garcia Lorca (Fuentevaqueros, 5 June 1898 – Víznar, 19 in August of 1936). Spanish poet and playwright. In 1915 begins to study Philosophy and Letters, and Law, at the University of Granada. Part of The Rinconcillo, meeting place for artists from Granada where he met Manuel de Falla. Between 1916 and 1917 makes a series of trips to Spain with his fellow students, knowing Antonio Machado. In 1919 he moved to Madrid and settled in the Residencia de Estudiantes, coinciding with numerous writers and intellectuals. Together with a group of intellectuals founded on granadinos 1928 Gallo magazine, of which only go 2 copies. In 1929 travels to New York and Cuba. Two years later he founded the university theater group La Barraca, to bring the theater to the people, and in 1936 back to Granada where arrested and executed for his liberal ideas. Writes both poetry and theater, although in recent years he turned more in the latter, participating not only in creation but also in the staging and assembly. It is shown more in his first modernist poetry books, in the wake of Antonio Machado, Rubén Darío and Salvador Rueda. In a second step combines Modernism with Vanguard, starting from a traditional base. As for his theater work, Lorca uses features lyrical, mythical and symbolic, and uses both the popular song as the calderoniana excessiveness or puppetry. In his theater the visual is as important as the linguistic, and the drama always prevails. Currently Federico García Lorca is the most read Spanish poet of all time.
Theatre: I love you Lorca Lorca
Company Teatrix
Saturday, 25 in January of 2020
20:30 hrs.
Can Jeroni cultural center
Sant Josep de sa Talaia
Free entry until complete seats
Ibiza-Click.com
IBIZA'S MOST VISITED CULTURE AND LEISURE SITE
Saturday, 25 January, at 20:30 hrs., Can Jeroni Cultural Center, in Sant Josep de sa Talaia, It takes place the representation of the play…