LOS BICHOS DEL SPACIO AT THE PORTMANY BAY FESTIVAL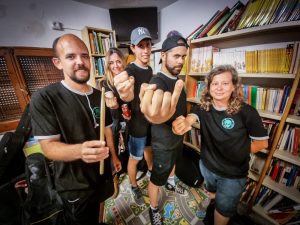 The Ibizan hard rock group Los Bichos del Espacio performs for the first time at the Caló de s'Oli Auditorium, within the Portmany Bay Festival, in an evening that will feature food trucks, photography exhibitions and content on biodiversity.
The Portmany Bay Festival takes place on Saturday 5 in August of 2022 to his first hard rock band, the Ibizan group Los Bichos del Espacio, famous for his versions and for the energy displayed on stage by all his musicians.
Los Bichos del Espacio is a hard rock cover band formed in 2014 in Ibiza by guitarist Cristina Sainz and vocalist Pablo Kiaro, which is also part of the Apotropaic group. After various line-up changes, currently they are also part of Los Bichos del Espacio Junior Diago on guitar, Sara Arribas on bass and Renato González on drums. His repertoire includes songs of all times and styles, re-adapted to a hard rock style, irreverent and unique, with a great staging.
As in every event of this festival in es Caló de s'Oli in Cala de Bou, attendees will be able to learn first-hand about the biodiversity of Portmany Bay and its surroundings with the digital exhibition 'Biodiversity in Portmany Bay and the Ponent Islands', on screens installed outside the venue.
In addition, in the break between the two passes of the concert, the prestigious underwater photographer Xavier Mas, will talk about the corals in the Illots de Ponent.
Fun's food trucks are also back & Trucks, with world street food, and other photography exhibition, 'Road to Synesthesia', with concert images of Joan F. Ribas inside the auditorium.
Admission to the concert and activities is free.
Space Bugs Concert – Save the Bay Festival
Saturday 5 in August of 2022
Starting from the 21 hrs.
Caló de s'Oli Auditorium
Carrer Málaga s / n, Cala de Bou
Artisans can participate for free
Do you want to know the Ibiza culture and leisure agenda?
Ibiza-Click.com
IBIZA'S MOST VISITED CULTURE AND LEISURE SITE
The Ibizan hard rock group Los Bichos del Espacio performs for the first time at the Caló de s'Oli Auditorium, within the Portmany Bay Festival, in an evening that…