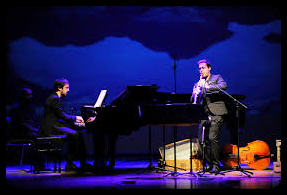 Sunday 30 April, the auditorium and cultural center Cas Serres, in Ibiza, Jewish Life hosts the concert, by MazikDuo. This duo consists of Tolo Genestar clarinetist and pianist Marc Sumsi, and in this show they offer his unique tribute to Jewish music.
A journey through time, It is moving through the daylight and night to teach, through music, the different situations that Jewish communities have suffered throughout history.
"Jewish Life, portraits of the past' attempts to demonstrate the idea of ​​tripartite relationship between music, history and culture and places them at a point in time and cultural space of a community. The year that just left has been the 70 anniversary of one of the most catastrophic events that left the twentieth century and thus make record the Holocaust, the genocide in which six million Jews were killed during World War II. In this way, they wanted to put a starting point to this fact to shape your project and establish within the culture of the communities with greater wealth and diversity, Jewish culture.
This feature is part of the circuit Talentib 2017, í approach that aims to inform the various islands of the Balears talent groups from neighboring islands. The concert starts at 20.00 hours and ticket price is 15 euros at the box office and 8 early euros. Tickets can be booked by calling 680 104 856.
Ibiza-Click.com
IBIZA'S MOST VISITED CULTURE AND LEISURE SITE
Sunday 30 April, the auditorium and cultural center Cas Serres, in Ibiza, Jewish Life hosts the concert, by MazikDuo. Este dúo está conformado por el…